Saltamos a la piscina sin saber nadar.
Jugamos con las disciplinas sin respetar los límites.
Lo importante es hacer cosas.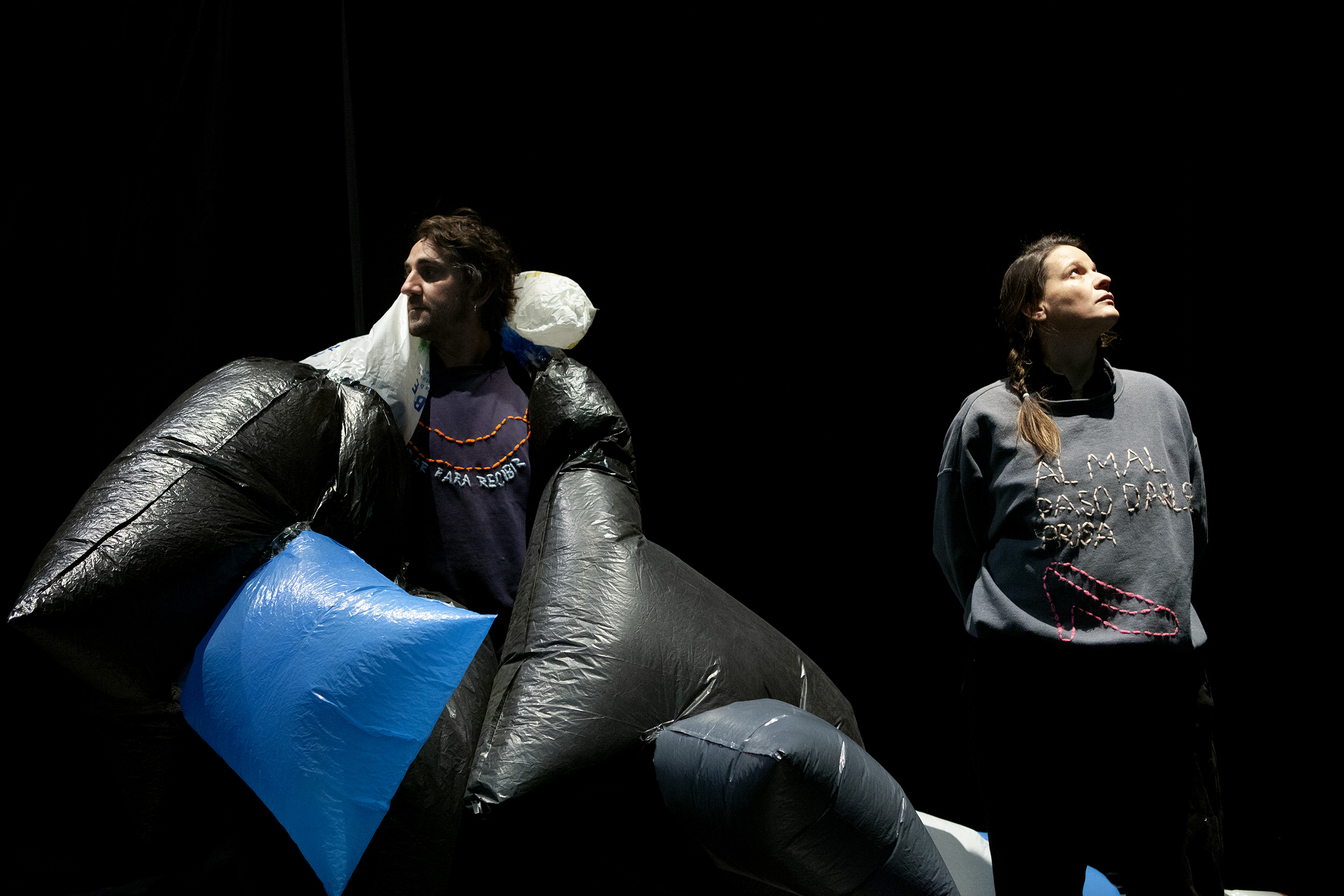 Maria Camila Sanjinés + Manel Quintana
Col·lectiu artístic que treballa des del llenguatge de l'art, l'acció i la interacció. Busquem la interpel·lació des de la íntimitat cap a lo col·lectiu. Posem en relació lespai, la identitat compartida i l'experiència des de la multidisciplinarietat.
/
Colectivo artístico que trabaja desde el lenguaje del arte, la acción y la interacción. Buscamos la interpelación desde lo íntimo hacia la colectivo. Ponemos en relación el espacio, la identidad compartida y la experiencia desde la multidisciplinariedad.
/
Art collective that works with contemporary art, action and interaction. We seek links from our intimate creative process to the collectiveness. We connect space, shared identities and experiences with mixed media languages.
/
Experiències escèniques i site-specific
Experiencias escénicas y site-specific
Performing arts and site-specific experiences
Teatre Lliure (Barcelona) / FiraTàrrega (Tàrrega) / Sismògraf (Olot) / Festival SÂLMON (Barcelona) /
Monsònica (Terres de l'Ebre) / Això al poble no li agradarà (Festival d'arts vives a comarques gironines)
Intervencions a partir de la llum, l'espai i la instal·lació.
Intervenciones a partir de la luz, el espacio y la instalación.
We build new realities from light, space and installation.
El Bòlit (Girona)/ Festival Lluèrnia (Olot) / Festival Festus (Torelló) / Festival Aphònica (Banyoles) /
Festival Danseu (Les Piles) / La Bianyal (Bianya)
Dispositius de diàleg amb el públic
Dispositivos de diálogo con el público
Projects that connect art and audience
ARTBO (Bogotá Art Fair) / ARTLIMA, (Lima Art Fair) / ARCO Fundación Telefònica (Madrid) /
DAAR (Decolonizing Palestine) (Bethlehem) / Museu de la Garrotxa (Olot) / Can Felipa (Barcelona)
Obra plàstica.
Obra plástica.
Plastic arts.
L'appartement 22 (Rabat) / Proyectos ARTBO (Bogotá) / La Bianyal (La Vall de Bianya) / Museu Garrotxa (Olot) / /Museum of Women in the Arts (Washington) / Asylum NYC, White box gallery (NYC) / Pabellón de Palestina (Biennal de Sao Paolo)
salchichas.art@gmail.com
+34 625554907